Dear Melville Community,
You are invited to object to the below application:
The property formerly known as Roxy's Rhythm Bar, 20 Main Rd, is applying for rights to install five gambling machines under the terms of their current place of amusement rights.
The property has place of amusement rights and intends to operate as a "VIP Gentlemen's club".
However, they have not made the required allowance for parking and have added a rooftop terrace bar against their consent use restrictions.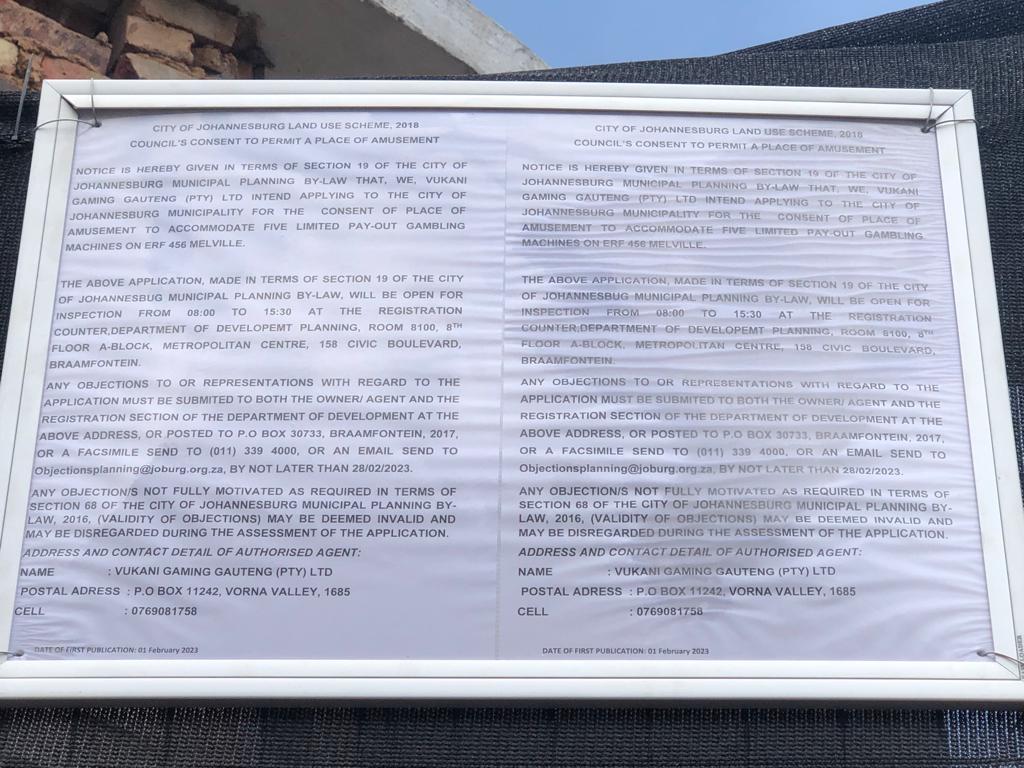 You have the grounds, amongst other personal reasons, to object based on
1) The property's proximity to schools especially the foundation phase and primary schools (Johannesburg Institute for Advanced Study 290m, Melville Montessori 300m, Melville Education Centre 400m, Sparrow Foundation School 500m, Melpark Primary 600m, Orban Primary School 750m, UJ Bunting Campus 400m)
2) Close to several churches and religious institutions (Community in Christ 100m, Kruisgemeente Church 300m, NG Kerk 350m, Melville Methodist 450m, Rivonia 7th Day Adventist 500m, Heritage Baptist 750m)
3) No adequate parking which will affect residential streets and one-way system
4) Socio-economic impact of gambling creating addiction and other social ills and the effect on the local residential amenity
Should you wish to object please email objectionsplanning@joburg.org.za and cc
mra-landuse@ilovemelville.co.za and bandilem@vslots.co.za
---
DEADLINE: 28 FEBRUARY 2023
---
PLEASE NOTE!
In order for your objection to be valid it must follow the below format/structure:
Municipal planning bylaw 68 – Validity of Objections
(1) Where in terms of any provision of this By-law any person may lodge an objection against any land development application or appeal, such objection must clearly set out:
(a) the right, interest or legitimate expectation the objection is framed to protect, and
(b) the full contact details, including e-mail and facsimile details, of the person objecting, failing which, the objection may be deemed to be invalid and may be disregarded.
---
OBJECTION TEMPLATE
---
APPLICATION IN TERMS OF SECTION 19 OF THE JOHANNESBURG MUNICIPAL PLANNING BYLAW for the application by VUKANI GAMING (PTY) LTD to the City of Johannesburg Municipality for the consent of place of amusement to accommodate five limited pay-out gambling machines on Erf 456 Melville.
I, as an affected resident, formally object to the application for gambling machines at erf 456, located at 20 Main RD, Melville on the following grounds:
1.
2.
3.
4. [delete this and include additional points as you see fit]
I thank the City for the opportunity to comment/object. Please note that these are summary points and that I reserve the right to expand on them or make additional points.
Please acknowledge receipt of the objection and kindly notify me timeously of the date of the hearing of this matter.
NAME:
ADDRESS:
CONTACT DETAILS/EMAIL: