The Melville Residents' Association ("MRA") has been advised by Mr Leon Slotow, the representative of the applicant, The Band Café (Pty) Ltd, of his client's intention to apply for the transfer of the restaurant licence issued to Mozi Venture Capital (Pty) Ltd during March 2016, in respect of the mentioned premises.
The MRA has no further detail of the application but certain aspects relating to the conduct of the applicants to date are of particular concern to the MRA and have led to it filing this complaint and objection.
The concerns of the MRA are as follows:
Noise: On the opening night, the Band Café had a live band playing loud music until late. They have further stated that music will be played daily and "mentoring" of young musicians will be undertaken on the premises.
Food Menu: The menu seems to be basic pub meal fare, i.e. burgers, sausage and various other platters and is very limited – not what one would expect from a restaurant.
The transfer of the licence is that of a restaurant – no mention of entertainment appears on the detail of the current licence.
Despite the fact the current licence in respect of the premises is that of a restaurant, and the applicants are fully aware of this fact, events and entertainment are organised, advertised and presented.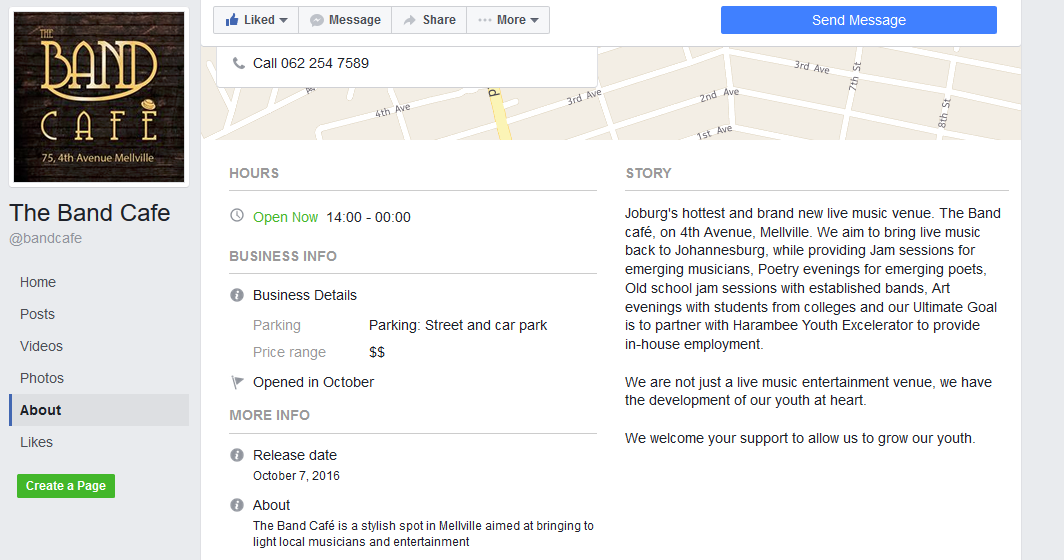 The MRA is furthermore concerned that the layout of the premises has changed significantly in that there is a large counter and stage, which were not part of the original layout. It would be wise to visit the premises to establish the status and verify whether it corresponds with the layout as approved for a restaurant liquor licence.
Regarding the tenancy, the applicant (tenant – Band Cafe) indicated that the lessor had stated that a live music / entertainment facility could be operated from the premises.
According to the information obtained, The Band Café is in contravention of the terms of the lease as following:
The Leased Premises shall be used … to carry on the business of a restaurant and coffee shop, but for no other purposes
Trading Hours: Business hours … 09:00 to 23:00
… use (of) the premises … as not to cause any nuisance …
The MRA requires sight of, or copies of:
The lease agreement
The certificate of suitability issued by the South African Police Services
In view of the above the MRA cannot support the transfer application and can also not condone any business activity in breach of any laws or conditions of applicable and relevant licenses.
The issues and concerns raised are not intended to be exhaustive and the MRA reserves the right to raise further issues as it deems necessary at any future hearing.
The MRA works proactively for a safe, peaceful suburb, and is gravely concerned about the manner in which this business is operated, especially that it is hosting events in contravention of the liquor licence issued in respect of the premises and also the terms of the lease agreement.
A copy of the MRA's objection & complaint is available for download:
Community members that would like to object against the transfer of licence for The Band Cafe can do so by sending an email to:
Gauteng Liquor Board: Attention Palesa Makhabane – Palesa.Makhabane@gauteng.gov.za
Applicant's Attorney: Leon Slotow – info@slotow.co.za
CC MRA Liquor Portfolio sub committee – mra-liquor@ilovemelville.co.za