The 13th Annual Moshito Music Conference and Exhibition takes place from 7 to 10 September 2016. This year's theme 'Censored: When the Revolution Could Not be Televised' recognises the artistic voices who appropriate their message through songs and bring the plight of the marginalised people to the attention of the State, for the world to know. The theme speaks to the fact that music can act as an unsolicited yet resourceful civic perception survey that highlights the prevailing socio-economic and political realities of the day from which public authorities must heed unless they decide to censor it.

Since 2004 Moshito Music Conference and Exhibition has established itself as Africa's premiere music industry event. With a purpose to broaden the business intelligence of music industry professionals in Africa, strengthen business networks for participants and inform delegates, traders and the public about the multifaceted and dynamic nature of the global music industry.

Moshito 2016 is poised to be a place where music meets business and business meets music.

The conference will take place from 7-10 September 2016 at SABC Radio Park located on the corner of Artillery and Henley Roads in Auckland Park, Johannesburg.
On 10 September 2016, the Moshito Music Conference and Exhibition will end with a Music Street Festival in Melville on 7th street, with the block between 3rd & 4th Avenue cordoned off for traffic. The Street Music Festival will run from 12:00 till 19:30.
It is important to note that the Johannesburg Road Agency will block that section on 7th from 00:01 till 21:00 on the 10th.  Immediately after the last performance (19:30) the event coordinators will start breaking down the stage and clear the area; according to the production crew, clearing will not go beyond 21:00.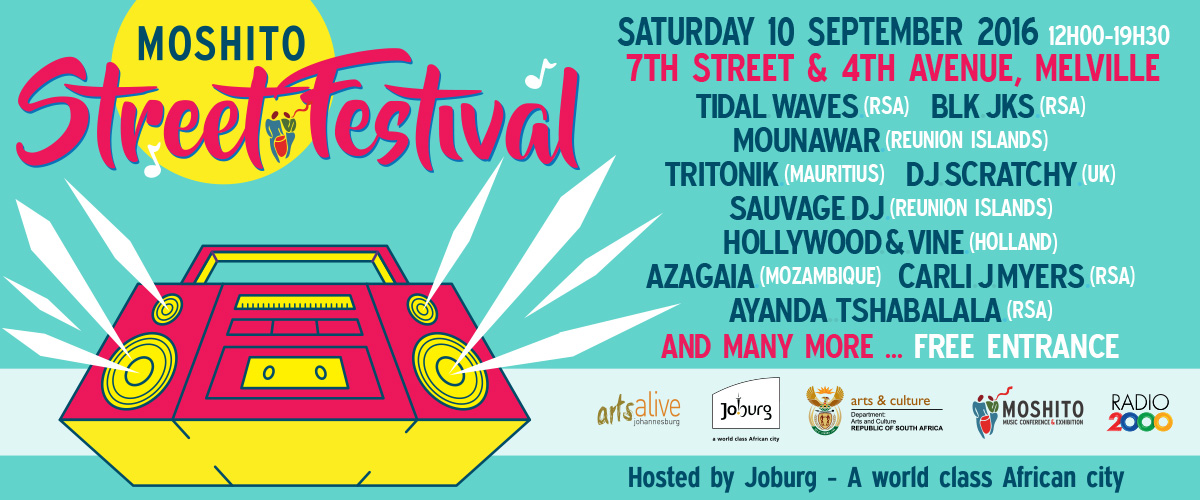 Moshito  Production & Event Coordinators Contact Details
Should there be any queries regarding the festival please contact the Festival Coordinator Bheki Mlambo on 082 074 7367. Security & Cleaning will be handled by Selimathunzi Consultants & Security Services with the contact being Mr Dube on 082 420 6565.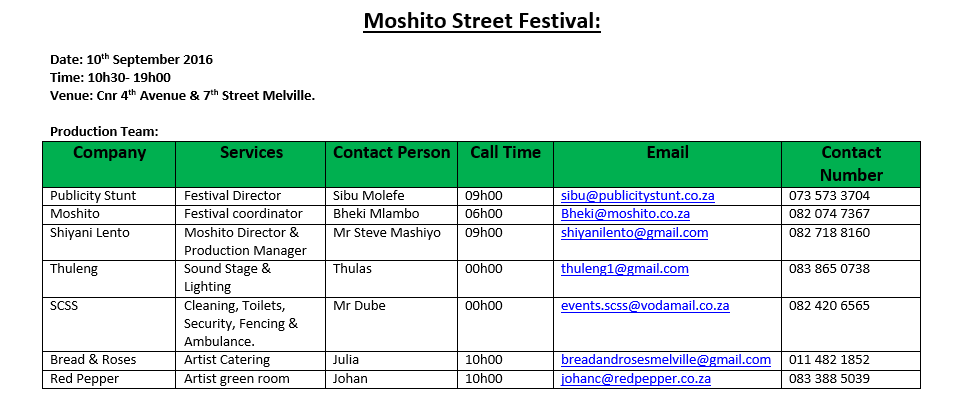 Event Documentation