After the very successful GEM Clean-Up organized by the Melville Security Initiative earlier this year, the Melville Residents' Association through its Physical Environment Portfolio walked through Melville in order to further identify areas that requires clean-up.
According to Lee Shaw-Newland, the amount of litter around MelPark Primary school is shocking, " We have engaged with the school and will be working closely with teachers & staff, involving the pupils to keep their environment clean & green."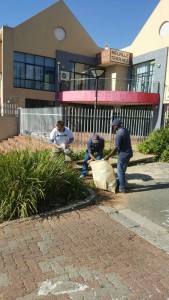 This weekend will be the first of many clean-up sessions, part of the Big Melville Clean-Up Project to ensure a cleaner Melville. 
"The focus will be on the litter around Melpark Primary School as well as a section of Main Road, from 1st Avenue downwards, depending on attendance numbers of the community. " says Willem Prinsloo, who is no stranger when it comes to getting down and dirty in order to keep the suburb clean.
Prinsloo urge residents & business owners to come and join them on Saturday, meeting point at Melpark Primary on 3rd Avenue at 09:30.
For more information regarding this weekend's clean-up,  email the Melville Residents' Association or browse the event details.