"Dear Resident, Churches and Businesses

Our resident's information page is up and running: http://walkthetalk.co.za/residents . Please visit our website for more details, the route map and an electronic flyer.

This letter serves to advise you that the 18th edition of the MTN Walk the Talk with 702 that will be taking place on Sunday, 28 July 2019. The venue for the start and finish is Marks Park Sports Club, Judith Road, Emmarentia.

The City of Joburg hosts the event and is a proud partner of the MTN Walk the Talk with 702. There will be well over 50 000 walkers taking to the streets over 4 distances- 5km,8km, 15km and this year, we are offering an additional 25km to celebrate 25 years of democracy. To celebrate a true milestone in South Africa's timeline, we will be organising points along the 25km route, which will incorporate fun, sound and vibe to truly give tribute to this momentous occasion.

The entertainment, and the sound that comes along with that will begin at 06h00 and continue until 13h00. The sound from the post-walk event at Marks Park will continue until 15h00. An Environmental Health Representative will be present to monitor all sound levels and enforce the noise exemption we have obtained from Environmental Health.

Due to the nature of the event and the volume of walkers, certain roads will be closed/affected, and these closures will be implemented by the Joburg Metropolitan Police Department, the Joburg Roads Agency and the City of Joburg.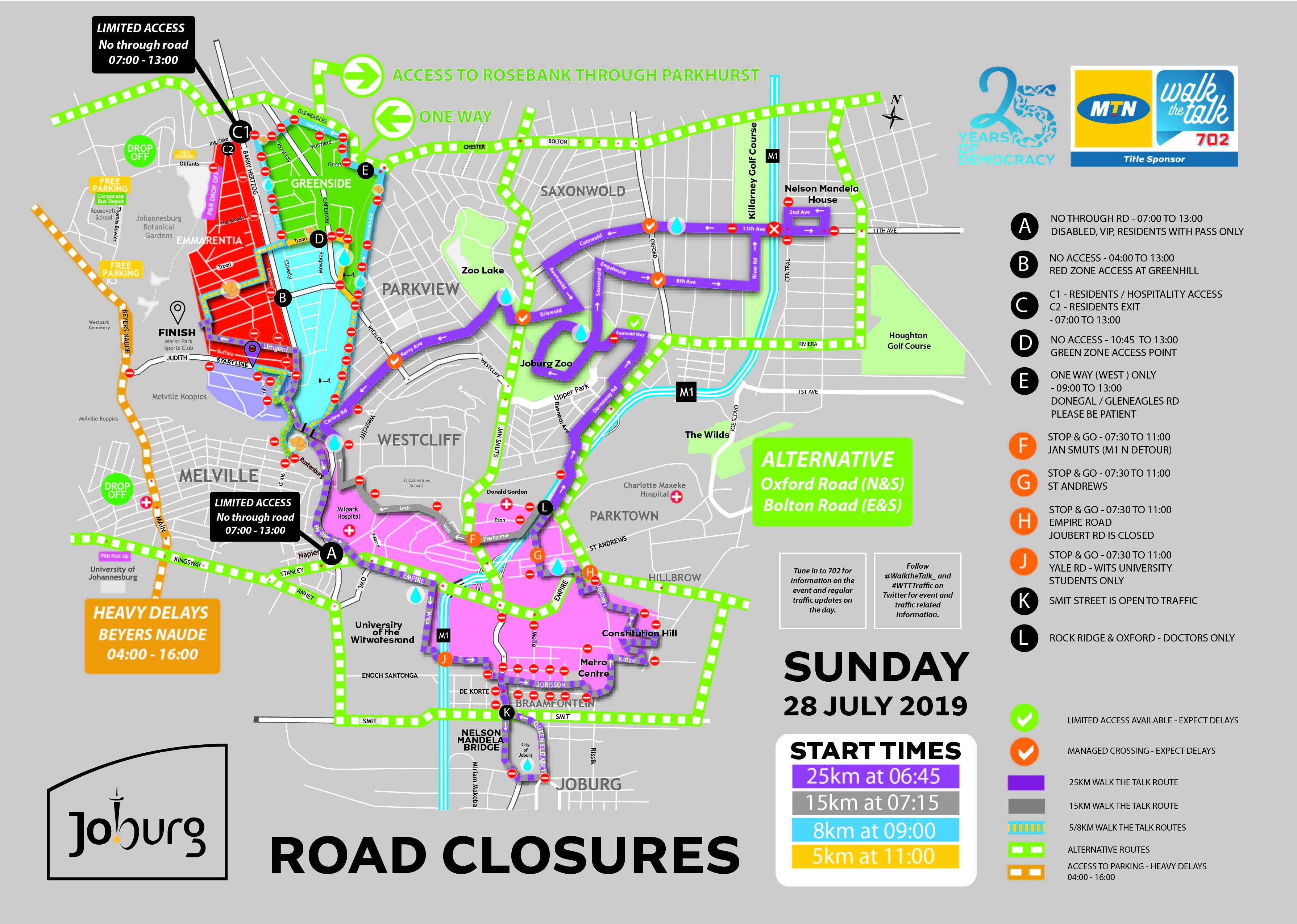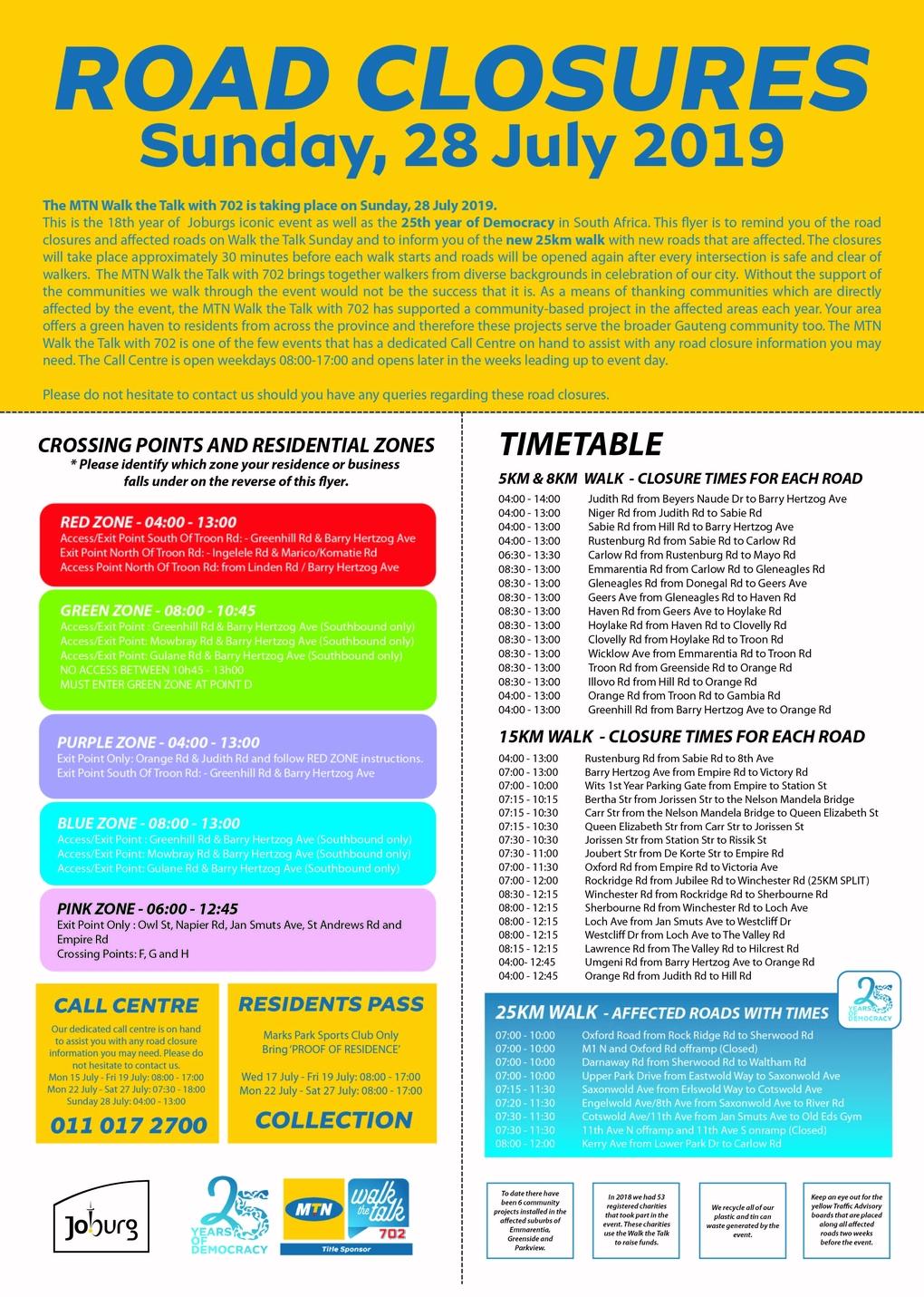 However, with a valid proof of residence you will be able to obtain a Residence Pass from us which will allow you access to closed roads surrounding your residences, ONLY when the marshals deem it safe for the walkers to allow you to pass in your vehicles. We ask if you could please be patient and courteous when communicating with our marshals as they are there to assist you as best they can.

RESIDENTS PASSES: In 2018 we delivered resident passes to the residents who collected passes in 2017 from Marks Park Sports Club and left their information. If you did not collect from Marks Park Sports Club in 2017, then you will not be on the delivery list and you will need to collect from Marks Park Sports Club during the below listed times and dates.

You will need to provide a proof of residence to obtain a pass. 

Ø  Wednesday, 17 July – Friday, 19 July: 08h00 – 17h00

Ø  Monday, 22 July – Saturday, 27 July: 08h00 – 17h00

If you have any dogs/pets, we ask that you keep them safely in the yard if possible, to reduce stress on them, as there will be an unusually high volume of people as well as dogs walking in the road.

The Walk the Talk with 702 brings together walkers from diverse backgrounds, in a celebration of our city. The organisers know that without the support of the communities we walk through, the event would not be the success that it is. As a means of thanking these communities which are directly affected by the event, the Walk the Talk supports a project based in these areas each year. As these areas offer a green haven to residents from across the province, these projects serve the broader Gauteng community too. Since we instituted this campaign, we have enabled the following projects:

Fitted wooden dance floor at Dansazania in Melville
Outdoor gyms – 1 in Greenside, 1 in Parkview, 1 in Emmarentia Botanical Gardens and 1 in Parktown/Braamfontein
Security fencing in Emmarentia Botanical Gardens
The refurbishment of a basketball court at Zoo Lake
A foot bridge across an ecologically sensitive wetland in the Botanical Garden
Last year we donated R180 000 towards ClearVu fencing around the Botanical Gardens along Beyers Naude Drive.

Please look out for any further correspondence regarding the Walk the Talk in the build-up to Sunday, 28th of July – flyers, posters, media reports, traffic advisories, social media and information will be broadcast on 702!

We thank you in advance for your support and understanding and ask that you assist us in spreading the word to all those that may be affected by the event and road closures.

PLEASE NOTE:

Our call centre is open from Monday to Friday 08h00 – 17h00 leading up to the event.

Monday 15th July – Friday 19th July: 07h30 -18h00

Monday 22nd July- Sat 27th of July: 04h00 – 13h00.

Sunday 28th of July- 04:00-13:00

CALL CENTRE – 011 017 2700

We apologise in advance for any inconvenience that this may cause you and ask for your patience and understanding.

Yours faithfully,

Carla-Marie Carriere

Residents Communication Manager

MTN Walk the Talk with 702 Organising Committee

011 017 2700/ residents@hsp.co.za/ www.walkthetalk.co.za"