The City of Johannesburg is in the process of setting up the new ward committees to assist councillors in the wards they represent. With the intention of promoting public participation at local government level, communities are encouraged to nominate representatives to serve on their ward committees.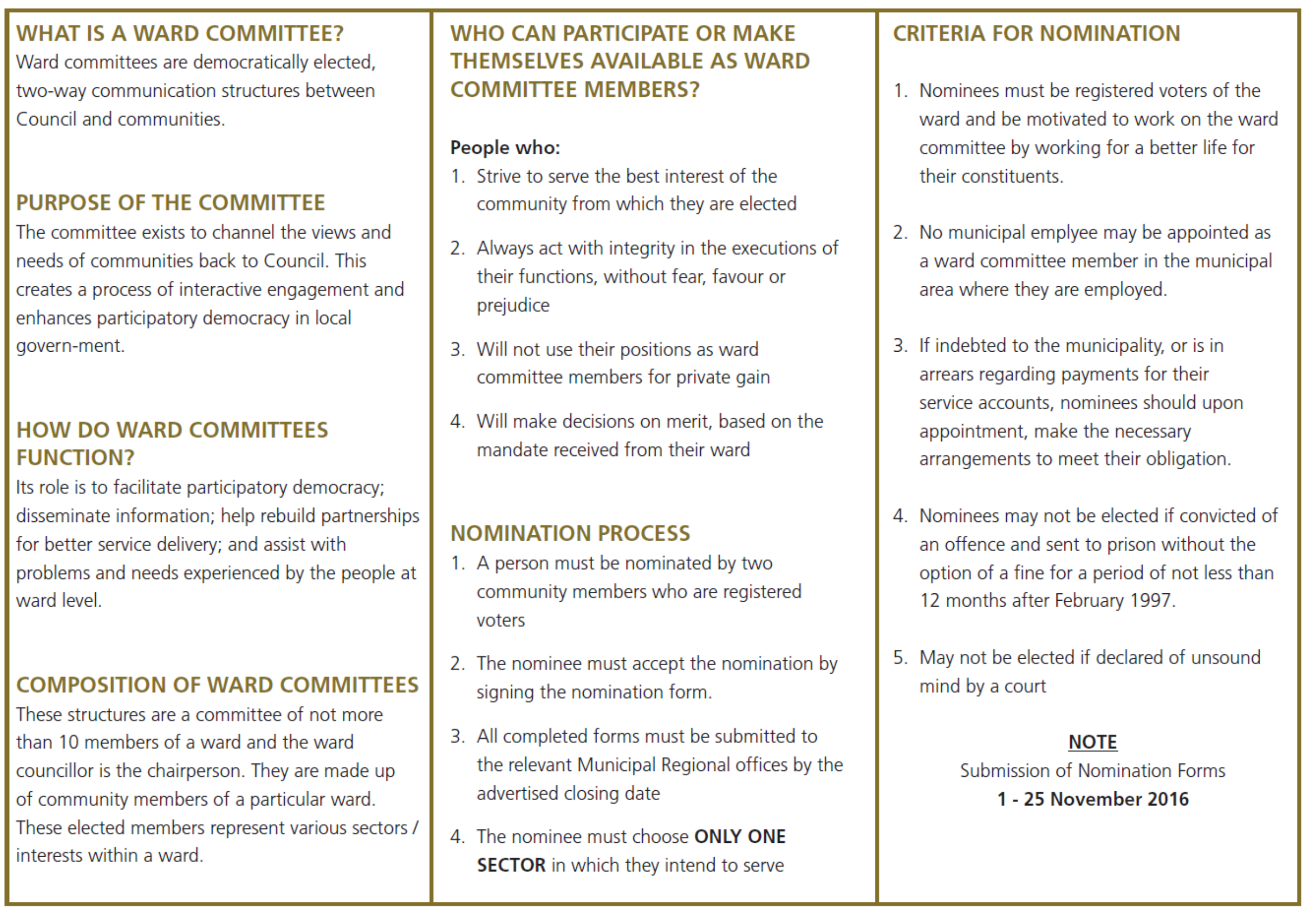 According to the City of Johannesburg's speaker, Vasco da Gama, the main function of a ward committee includes, but not limited to:
Advising and making recommendations to ward Councillors on matters and policies affecting the ward
Assisting the ward councillor to increase the participation of local residents in municipal decision-making, as they are a direct and unique link with

the council

Primarily representatives from the local ward community and not from a political party

Members should be involved in matters such as the Integrated Development Plan process, municipal performance management, the annual budget, key activities and programmes

Supporting the ward councillor in dispute resolutions and providing information about municipal operations

Monitoring the performance of the municipality and raising issues of concern to the local ward

Helping with community awareness campaigns such as, waste, water and sewage, payment of fees and charges.
Each committee should consist of no more than ten members per ward, excluding the ward councillor who also serves as the chairperson. Committee members must live in the wards they represent and should have no party affiliation in this role.
Members have to be elected. Interested applications are required to fill in applications forms, which are available from any one of the city's municipal offices. Once completed they should be returned to these offices or Councillor Bridget Steer by latest 25 November 2016.
The IEC will oversee the election process at a voting station yet to be determined within the ward. If only ten people apply, no elections will be held. The period of service for each ward committee runs concurrently with the current political term, in order words until the next municipal election in 2021.
The ward committee is an important component of the city's governance and service delivery structure as it provides a forum for addressing residents' concerns.
Ward committee members are paid R1000 per month.
NOMINATION PROCESS
The following information is an extract from an email by  Cllr Bridget Steer:
" Residents who are interested in being ward committee members need to follow the following process:

A person must be nominated by 2 community members who are registered voters in Ward 87
The nominee must accept the nomination by signing the nomination form
All completed forms must be submitted to the relevant Municipal Regional offices by the 25th of November

Ideally it would be good to have a committee that has one person from each RA / Suburb included so they can represent those residents interests, and that each person is able to fill one of the sector positions.

The suburbs in Ward87 are:

Greenside
Melville
Auckland Park
Brixton
Richmond
Parkview
Westcliff
Forest Town
Parktown West

The following are the Ward Committee sectors:

Housing
Transport
Public Safety (EMS/JMPD)
Economic Development
Community Development
Community Development 1 (Sports, Culture, Youth)
Community Development 2(Women, FBO's, CBO's & NGO's)
Health
Environment
Development Planning & Urban Management
Infrastructure & Services (City Power, Joburg Water & Pikitup)

The nominee must choose ONLY ONE sector in which they intend to contest.

The principle of gender equity must be taken into account and this may be achieved by ensuring an even number of men and women on the committee."
Residents and stakeholders are invited to attend a two hour information sharing session that will focus on election processes. The session is scheduled as follows:
Date: Tuesday, 25th October 2016
Time: 18h00
Venue: Marks Park Sports Club, Colonial Hall
For more information contact Pinky Tladi 011 718 9778 or Vusimuzi Mzobe 011 718-9710.
You can also download the presentation here.